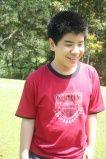 Oh hello. Sign in Blogspot.com
Scripture
I will make rivers flow on barren heights, and springs within the valleys. I will turn the desert into pools water and the parched ground into springs. I will put in the desert the ceder and the acacia, the myrthle and the olive. I will set pines in the wasteland, the fir and cypress together, so that people may see and know, may consider and understand, that the hand of the Lord has done this, that the Holy One of Israel has created it.
MusicNoiseSomething
Saturday, March 20, 2010
Holidaying in Kuantan
It's our first family holiday since John's near drowning incident in 2008. We had a good holiday, enjoying the walks in the beach, flying kites, playing snooker and the skyline of each new day. Here you see Simon and John just enjoying the waves while resting on a rock!
'Be my rock of refuge, to which I can always go......For you are my hope, O Sovereign Lord, my confidence since my youth.' (Psalm 71:3,5)
Labels: Others
Wednesday, March 10, 2010
Swimming in Lake Club
This was taken on 26/2/10. God is good to us in enabling us to see another miracle. Simon started by coaxing John to swim towards him 2 sessions ago. He started doing it! We are so exited to see his progress we had to share it.
Here is the last part of his swim; about to get up. You'll see John protesting in having to do another "lap". He laps from one side of the pool to the other. In earlier videos you'll see his legs co-ordinating but his right hand was always splashing the water. But now he's better able to control his right arm and body and neck to move forward.
Labels: Physiotherapy